Dear Member,
During this critical situation, being experienced by the whole world; we at Waterstones Club, trust and pray you all are well and safe. Putting safety and health on priority, Waterstones has come up with few ideas to serve you while you are safe at home.
Fine Dining Experience & Bakery at your Doorstep 20% Discount on Menu Price & Contactless Delivery.
THE WHITE BARN: The White Barn delivery menu offers Indian and Continental delicacies, freshly cooked with all measures undertaken to maintain highest levels of hygiene.
ALL STIR FRY: The All Stir Fry delivery menu offers a range of Oriental dishes cooked with complete care and safety measures to be delivered at your doorstep.
PIECE OF CAKE: Grab the opportunity and celebrate your birthdays and anniversaries while staying at home with your loved ones. Order cakes and other bakery products from our "Piece of Cake" menu providing a variety of freshly baked savouries, that will leave you content.
To place orders, please contact on +9122 40906633 / +91 9004415822. All the above Menus will be sent via email or whatsApp upon request.
Premium Laundry Service with 20% Discount & Contactless Delivery
Laundry services are now available for our members with some special and attractive offers. So, why wait any longer? Get your clothes washed and dry cleaned by our professionals and delivered at your door.

For more information and menu, please contact on +9122 40906633.
Introducing Instagram account for Waterstones Club. Request you all to follow us @WaterstonesClub to get our latest updates.
Instagram live: Saturday 4th July at 5 pm
Ms. Tanuja Gomes: Co-CEO & Co-Founder, Furtados School of Music
Ms. Tanuja Gomes, a seasoned banking professional has contributed 16 years working for multinational banks like HSBC and Barclays in India and Singapore. Her passion for entrepreneurship and music led her to start Furtados School of Music in 2011 with a vision to make quality music education accessible to people across all age groups while making the entire learning process fun-filled and joyous. Her vision is to impart the best music curriculum in schools across the nation. The institution is currently affiliated with nearly 200 schools and has 15 centres across the country.

Ms. Tanuja Gomes will speak about her entrepreneurial journey, her business strategies in current scenario & much more…

Follow us on Instagram: @waterstones.hotel
MEMBER'S 'STAY HEALTHY' EXPERIENCE DURING LOCKDOWN
Mr. Girish Shah: Executive Director – Knight Frank India, Narration: Ms. Radhika Batra Shah
The lockdown has been a great learning for us. A lesson that we shall remember and reminisce for life.

They say your resilience and strength is tested when times are tough. All I can say is we have been very positive and grateful as each new day welcomes us healthy and happy.

We have been indoors since the 20th of March, in fact it was our last outing at Waterstones Club too!! The world seemed to be on a shutdown and how it felt like some sort of dream initially.

My husband Girish and daughter Shloka were in this together with me. Our parents away in a different city, as we checked their well-being each day, we realised that it would be supreme if we kept our spirits high first, so that our families feel our good energies. What better way than exercise was the decision.

Every evening post our office zoom meets and school tutorials and day to day chores, (you see we had to let go off our housekeeping staff and cook as they left for the village to be with their loved ones), we rolled out our mats and began yoga and meditation. This regimen then slowly moved to cardio and functional along with power yoga. The idea was to keep each other motivated in order to keep at it, as it was super easy to miss class and instead watch Netflix and chill.

There were days when we simply were exhausted from the work schedule but on those days we decided to walk on our terrace and get some sun. As days passed and we felt we missed our coach we enrolled for an online power yoga class for ten days. The idea was to perfect our asanas and up our pace. These classes were conducted by a Himalayan yogi or teacher, he has been so empowering that we managed to accept his challenge of 51 surya namaskars, i.e. 100 rounds with each consisting of 12 asanas each. And that is one commendable feat for sure.

We also have been dabbling in more nutritious meals at home where my daughter and husband help me cook up interesting options keeping in mind all aspects of a great meal.

From chia bowls to immunity teas to protein and fibre rice bowls. We have even started trying our Traditional millet breads at home. Now that's something I wouldn't experiment with on regular days like it was pre covid, as I delegated it all and left for my office and taking my daughter to her extra curricular activities post school.
The highlight of our lockdown has been a lot of family time, ability to cook and clean without depending on staff and of course be super active and not lazy for sure.
Mr. Vikaas Kalantri: Actor & Businessman – White Leaf Entertainment Media Pvt. Ltd.

Fitness is one of my greatest abilities. I love being fit and it's like a passion more than anything else. While this lockdown was instilled, I wanted to remain fit and keep the energy going.

I started with home body weight workouts, lots of different mixed martial art techniques as well as some more other techniques to keep the body fit. I started working out 4 times a week every evening for about 1 hour doing various exercises like clap pushups, jumping jacks, and many other such exercises that I have never ever done. It helped keep my body fit and healthy and makes me feel energetic and full of stamina. Also the occasional sprints and jogs have helped me a lot in keeping that fat away. Staying fit is a question of the mind and I tuned in to stay fit and stay healthy. Miss the gym though and can't wait to get back to the gym and start my usual workout.

GUT HEALTH – Chef Mrinmoy Acharyya:

Instagram live post hosted on June 13, 2020.

Executive Chef Mrinmoy Acharyya shared his expert opinion on 'Eating Right' during the present challenging days. So, here's a glimpse of the conversation…

Things to be included in our diet:
Vegetarian: Green vegetables, pumpkin, spinach, carrot, beetroot, tomatoes, garlic, onion, red pepper, pumpkin seeds, sunflower seeds, probiotic yoghurt.
Non-vegetarian: Egg with yoke, meat with bones, seafood.
Drinks: Green tea, plain Kombucha (fermented drink with sugar and scoby) or with fresh vegetables / fruits such as mangoes, pears, blueberry etc.
Important tips to fight Covid 19:
Balancing your diet is very important.
Carrot and beetroot to be washed properly and eaten raw with skin.
Broccoli and spinach should not be cooked too much.
Nuts are rich in vitamin and magnesium, especially almonds to be included in the diet.
Drink water with a wedge of lime/orange into it.
Turmeric is a very good immunity booster.
Sanitize fruits, vegetables etc. with baking soda and other groceries with health ministry certified sanitizers.
Hot food is safer to be had than cold food.
Avoid antibiotics and oily / fried food.

Food ordering from Waterstones: Chef Mrinmoy highly recommends food to be ordered from Waterstones (The White Barn & All Stir Fry) and get it delivered at your doorstep since utmost care and concern is taken to have the least contacts and handlers of food. It is always safe to order food from restaurants you are familiar with.
BEING SAFE & HEALTHY – Dr. Asad Lakhani

Instagram live hosted on May 14, 2020.

Basic and important tips:

✓ Fever, breathlessness and dry cough are the basic symptoms for Covid-19. Do not panic but contact your doctor immediately.
✓ Washing hands with regular soap and tap water or sanitizing hands regularly, wearing a mask while stepping out and maintaining social distancing of 2 metres or 6 feet is necessary to keep corona virus at bay.

Other facts and hints:
Packaged groceries purchased should be rinsed well.
While eating outside food, ensure no contact with the delivery agent & wash your hands well before eating.
Though Corona Virus can be termed as airborne; being in an AC room / Aircraft will not infect anyone if they wear a mask and maintain social distancing.
Intake of multi-vitamins, ayurvedic & homeopathic medicines are fine if it doesn't affect one's health.
WHO, ICMR (Indian Council of Medical Research) and CDC (Central of Disease Control) from America are the sites which provide right and reliable information about COVID 19.
80% of the infected people do not show any symptoms. So wearing mask, hand sanitizing and social distancing is the best and only solution for asymptomatic patients to avoid transmitting the virus.
Keeping body hydrated, check on body weight and regular exercise for at least 5-6 times a week is necessary. Pranayam helps lungs to stay healthier.

HEROES OF WATERSTONES WHO WORKED DURING LOCKDOWN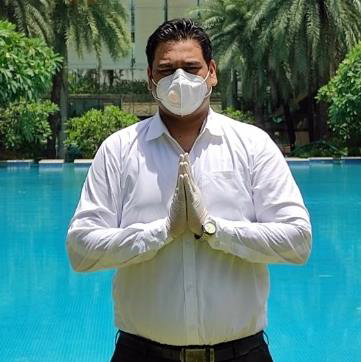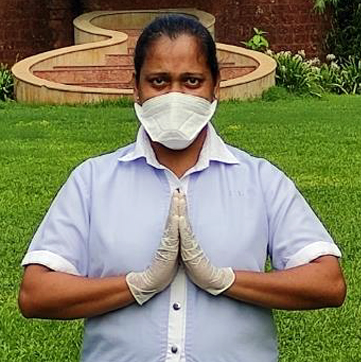 Stay home to stay safe.
Best regards,
Arindam Chakraborty